DISCOBALLS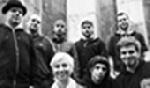 Info:
Origin: Czech Republic
Website:
www.discoballs.cz
Release: Shine and Rise
DiscoBalls are a band from Prague (CZ) that was formed in 2006.They play music based on Ska with Soul feeling and Punk roughness. The sound of the Balls is characterized by cartoon-like horns, ska guitar that makes trips from country to HC, groovy disco bass, peremptory drums and girly sweet voice.
During summer 2008, DiscoBalls has recorded their first album named DiscoVery Channel that was nominated for the best Czech album in the category Ska and Reggae in the Czech version of Grammy.The album is sold-out now and it is available for free download on their web site www.discoballs.cz. The second CD Rise and Shine opened them doors to the biggest Czech festivals and to a lot of coutries allover the Europe. In summer of 2013 they are going to the studio to finish their 3th album which is going to be out at the beggining of November.
Over the years, The DiscoBalls have played over 500 concerts all around Czech Republic and in Slovakia, Slovenia, Croatia, Poland, Austria, Germany or Balkan Peninsula.